08.19.03
New, Improved Client Support & Billing System installed.
04.25.03
Server Monitoring by InternetSeer added.
02.15.03
CroakingToad.com partners with BoundlessBliss.com to provide pre-designed website templates.
01.05.03
CroakingToad.com has direct peering link to America OnLine (AOL) !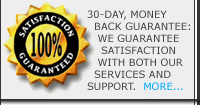 CroakingToad.com strives to provide our hosting clients with affordable web hosting plans and outstanding customer service. Our mission is to serve the hosting needs of small business, SOHO, and private individuals seeking a flexible web hosting provider who can consistently deliver technical expertise, quality service and a friendly demeanor.
Our rock-solid servers provide a secure foundation for your business or personal website, whether you are actively involved in ecommerce, advertising, business functions or you simply want to share your thoughts or talents with other internet users. With our affordable hosting plans below, we can support just about any web hosting need you have. Please give us a try, and "Take a Walk on the Wild Side."
Pricing

Host Lite

Host Now

Host Pro

Host Power

Monthly Price
$4.95
$6.45
$7.95
$19.95
Quarterly Price
$14.85
$19.35
$23.85
$59.85
½ Year Price
$29.70
$38.70
$47.70
$119.70
Setup Fee
FREE
FREE
FREE
FREE
Domain Registration
$15.00
$15.00
$15.00
$15.00

Storage & Transfer

Host Lite

Host Now

Host Pro

Host Power

Disk Space
150 MB
300 MB
500 MB
600 MB
Bandwidth
2 GB
4 GB
5 GB
8 GB

Other Features

Host Lite

Host Now

Host Pro

Host Power

Mail Boxes
5
15
No Limit
No Limit
MySql Databases
5
10
10
15
FTP Accounts
1
5
5
10
Sub-domains
2
3
5
No Limit
Optional Add-Ons:
 

All plans include:

FREE $5 Account!

30-day Money Back Guarantee
Control Panel (cPanel)
Webmail
Mailing Lists
E-mail Auto-responders
E-mail Aliases
Spam Assassin
E-mail Forwarding
Everyone.Net Support
BigMailBox Support
Catch-All E-mail Account
CGI-BIN / sCGI-BIN
PHP 4.3.2
Perl v5.6.1, C++, gcc
Zend Engine 1.3.0
Python Enabled

SSI
JavaScript
Pre-Installed Scripts
MySQL 4.0.15-standard
PHPMyAdmin
Flash Support
Unique IPs - $2/mo
FrontPage Extensions
Online File Manager
Custom Error Pages
Webalizer Statistics
Raw Log Files
Shared SSL
Free Shopping Carts
Password Protected Directories
FREE Search Engine Submission

International Customers, we accept payments for the following currencies: U.S. Dollar ($), Canadian Dollar (C), Euro (EUR), Pound Sterling (£), and the Yen (") via PayPal or Credit Card. All prices shown are in U.S. Dollars.